Akil Acevedo Kids Martial Arts Instructor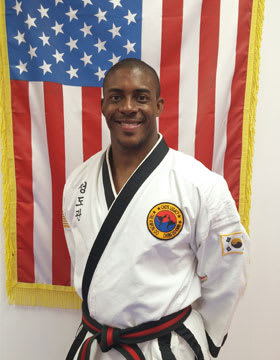 Akil Acevedo
Master Akil Acevedo is the owner and Master Instructor of Cho's Legacy Tae Kwon Do in Morristown, NJ. He has studied Chung Do Kwan Tae Kwon Do for over 27 years under Great Grand Master Kyu H. Cho, 9th degree black belt and founder of Cho's Tae Kwon Do Schools (served the Morris county community since 1973).
Master Acevedo, is a Kukkiwon / World Tae Kwon Do Academy certified 3rd Class International Master Instructor and 3rd class Tae Kwon Do Promotion Judge as well as a 5th degree black belt under both the Kukkiwon and World Chung Do Kwan Federation. As the founder of Cho's Legacy Tae Kwon Do in 2014, he continues the teachings of Great Grand Master Cho, with the focus of helping others achieve their goals and reach new heights of personal excellence through traditional Tae Kwon Do training.
At Cho's Legacy Tae Kwon Do various classes consisting of quality self defense and traditional Tae Kwon Do instruction are available. Our emphasis is on engaging, safe and fun classes that develop your confidence, knowledge, focus, and strength, using Tae Kwon Do skills that can be applied in all areas of your life.